Darren White's view on marijuana changed drastically in the past two decades.
Nearly 20 years ago, he resigned from then-Gov. Gary Johnson's administration after Johnson backed marijuana legalization. Now, White not only backs Johnson, he's come around to Johnson's point of view on marijuana legalization (with some caveats).
Related: See why White is backing Johnson for president
White isn't alone among Republicans (yes, White remains a Republican despite backing the Libertarian Party nominee for president).
A recently-released poll by YouGov found that a narrow plurality of Republicans back marijuana legalization: 45 percent to 42 percent. This poll conducted on July 17 and 18 is a sea change from a December poll by the same pollster that showed 50 percent of Republicans opposed such legalization compared to 36 percent who approved of it.
Overall, the poll showed 55 percent of Americans support legalization to 33 percent who oppose.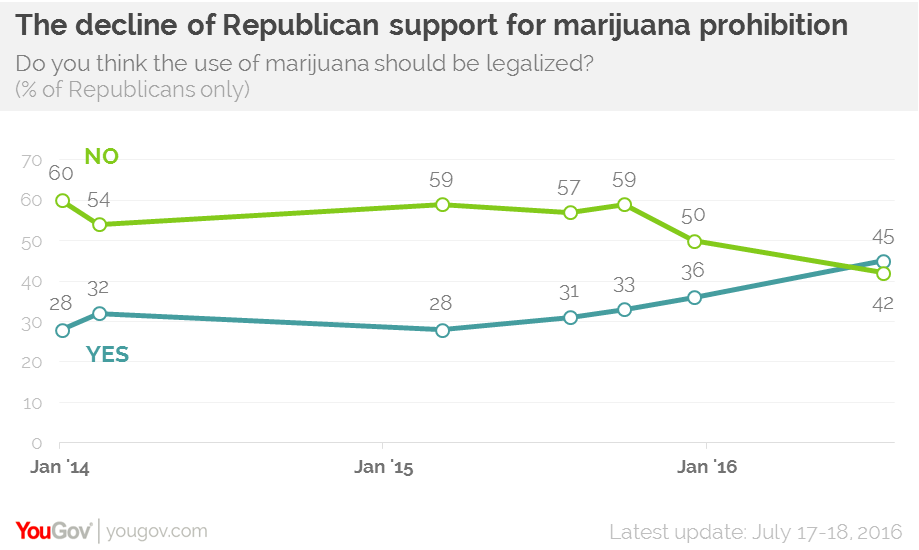 The poll did not ask about medical marijuana, but other polls have shown nearly 90 percent of Americans believe doctors should be able to prescribe marijuana.
When it comes to the party insiders, however, there is harsh opposition to marijuana, even medical marijuana.
Republicans opposed endorsing medical cannabis in the national party platform earlier this month.
From Huffington Post:
Another delegate absurdly claimed that people who commit mass murders are "young boys from divorced families, and they're all smoking pot." Yet another delegate claimed marijuana triggered schizophrenia, and is funded nationally by Democrat and New York financier George Soros. "Let's think a little bit what happens with Percocet, with OxyContin," claimed a third delegate, who drew a connection between the ongoing heroin epidemic and teenagers smoking marijuana.
The Republican Party of New Mexico platform does not directly address marijuana, but does more broadly say the party opposes "any effort to legalize or decriminalize the recreational use of drugs."
Medical marijuana is not mentioned.
The Democratic Party of New Mexico, meanwhile, supported decriminalization of marijuana. The 2014 platform did, anyway. Democrats failed to endorse a new platform this year.
Gov. Susana Martinez, a Republican, opposed medical marijuana before her first gubernatorial win in 2010.